In the news:
Come join the conversation on Wednesday, March 25th!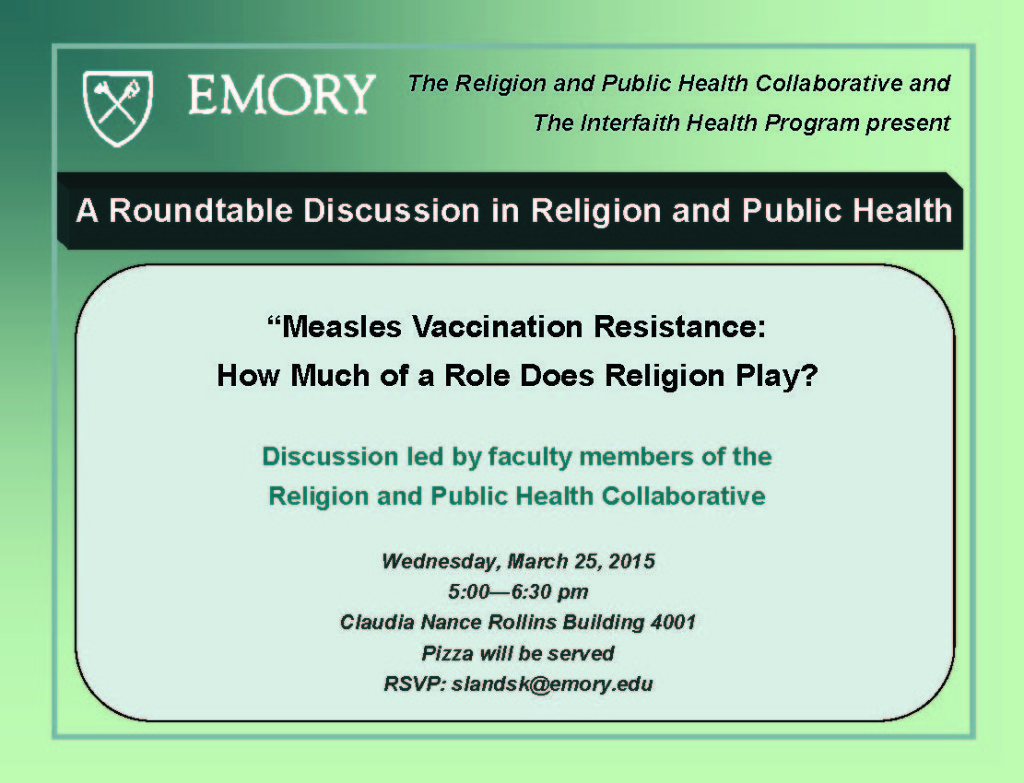 Click here to watch the speaker presentations from the November conference, "Religion as a Social Determinant of Public Health"
By Sara Bliss, Yahoo! News, January 9, 2015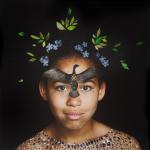 Australian artist Deborah Kelly frequently explores issues of race, gender, and religion. Most recently, she was one of 30 artists commissioned by the Bill and Melinda Gates Foundation to spotlight the topic of vaccinations around the globe for The Art of Saving a Life. She collaborated with 12-year-old girls, newly of age to receive the HPV vaccine that prevents cervical cancer. "It seems to me that the HPV vaccine treasures young females and their futures, so I wanted the works to reflect a little light from the girls' hearts and hopefulness," says Kelly. The result sends an empowering message about public health and self-esteem for young women.
Ebola Deeply, January 6, 2015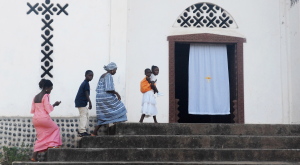 Sheikh A.B. Conteh is the president of Sierra Leone's Inter-Religious Council and a chief imam in Freetown. Ebola Deeply spoke with him about changing burial practices, national collaboration and religion's wider role in the Ebola response.
Ebola Deeply: How has the Inter-Religious Council responded to the Ebola outbreak so far?
Conteh: When the epidemic began to spread in Sierra Leone, the Inter-Religious Council joined with the Ministry of Health and Sanitation to share the message that Ebola is real and that we, as a country, have Ebola. We launched social mobilization exercises designed to reach our people.
By Dan Bloom, MailOnline, December 23, 2014
Britain's about to gorge itself on turkey, sausages and cheese – but it seems our religious feasts carry a hefty price.
People of faith are more likely to be obese than the godless, a study has found. And with all their hot cross buns and chocolate advent calendars, Christians are the worst offenders of all.
A university researcher examined the body mass indexes (BMIs) of more than 7,000 people, and found those of believers were almost a point higher than those of atheists.
By Ellen Idler,  OUP blog,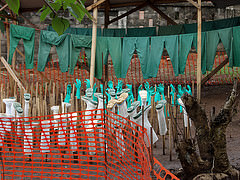 If you think about big public health challenges of our day — the Ebola virus in Africa, the rising rates of suicide among the middle-aged in the United States, the HIV epidemic everywhere — religions are playing a role. When I speak, I ask audiences, "What was the first thing you heard about the Ebola crisis?", and they always say "The missionaries who got it were taken to Emory." "That makes my point," I say. "You didn't know anything about it up until that moment, but they did." Those missionaries, and the faith-based organizations they worked for (Samaritan's Purse and Serving in Mission) were already there on the ground along with other faith-based organizations, volunteering their time, putting their lives in danger, and providing valuable resources of equipment, supplies, and knowledgeable helping hands to try to contain the outbreak.