Upcoming events and news:
Mark your calendars for two events, February 18 and 19, 2016
Jenny Trinitapoli, Associate Professor at the University of Chicago will present a public lecture on her book, Religion and AIDS in Africa on Thurday, February 18, in the Lawrence P. and Ann Estes Klamon Room at the Rollins School of Public Health.

On Friday, February 19, Dr. Trinitapoli will join a panel of researchers in a workshop co-sponsored by the Center for Ethics to discuss ethical issues that have arisen in their research work.

Registration for this event is CLOSED. 
If you would like to be added to the waiting list, send an email to slandsk@emory.edu, and you will be notified if there is an opening.
If you registered and cannot attend, kindly let us know by sending an email to slandsk@emory.edu, so that we can put someone in your seat!


By Morgan Brown, The Red&Black, July 27, 2015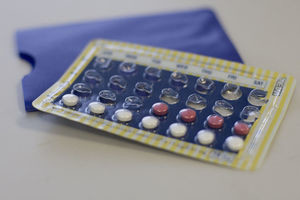 Somehow, the moral debate over the use of contraceptives has been carried into the 21st century. It is not known for being a debate that changes very much even as more contraception methods become available to us.
Although the contraception issue has never been one prone to periods of dormancy, it has in recent years experienced relatively strong media and political presence. This high period began with laws and healthcare providers offering contraception to insured women with no additional cost outside of insurance.
The groundwork was laid through the Affordable Healthcare Act by the Obama Administration to mandate that most healthcare plans provide free contraceptive coverage. This action is not without backlash in the form of lawsuits by many employers and organizations against the mandate.
The viewpoints against widespread contraception availability are largely religious, and so tend to debate morally right or wrong.  read more
By Katherine Marshall, Huffington Post, July 12, 2015
On July 7, the renowned medical publication the Lancet launched a series of articles on faith and health, led by Ed Mills. Lancet Senior Executive Editor Bill Summerskill, made clear that this was a significant departure, a first. Speaking at the World Bank in Washington D.C., he and his colleagues did not shy away from the fact that the path to publication had not been easy. But they saw the opportunities and issues raised as vital to achieving universal health care, which in turn is at the core of the sustainable development goals (SDGs) that are close to being finalized at the United Nations. [Disclosure: I was a member of the author team and contributed to two comments that are part of the series].
The central, positive message of the series is that, contrary to tacit assumptions of many non-religious health experts and providers, religion and health are closely interlinked. Religious institutions run hospitals and clinics, train doctors and nurses, and encourage health-enhancing behaviors like hand-washing and moderation. Religious beliefs and practices, such as caring for and comforting the sick, are fundamental to community involvement in public health. This is true everywhere but especially in places where religious beliefs, institutions, and practices dominate daily life.  read more…
By Stephen V. Sundborg,  Howard Frumkin, Seattle Times, July 5, 2015
The long-anticipated encyclical by Pope Francis to the world on the environment was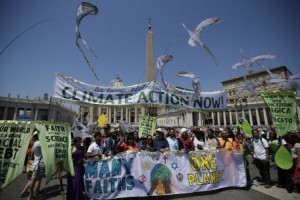 released mid-June. The Lancet Commission, a distinguished United Kingdom-based health body, the following week released its report on health and climate change. The next day, the White House hosted a summit on the same subject. Will this unprecedented alignment of key official voices — religious, scientific and governmental — change the conversation on ecological destruction and whom it impacts?
Pope Francis has already changed the conversation in the Catholic Church by prioritizing issues of justice and mercy. He holds a unique status today as a moral leader not only of Christians but of all peoples of the world. He has used that moral authority to call for a needed moral conversion about what he considers the interconnected issues of the environment, the poor, humanity, global development and peace.
Health professionals and scientists are also changing the conversation by calling attention to the ways in which environmental destruction, such as climate change, threatens human health and well-being. We feel the effects through more severe storms, risks of infectious diseases, food scarcity and more.  read more…
Religion News Service, July 2, 2015
Patient Treated at SIM's ELWA Ebola Care Center in Monrovia; Organization Prepares for Possibility of More as One-Year Anniversary of Infected Americans Approaches
CHARLOTTE, N.C. – After 45 days of no new Ebola cases, Liberian health officials had declared the country Ebola-free in May. Now there are a number of new Ebola cases reported in that country, one of whom is being treated in the Ebola Treatment Center at SIM's ELWA campus in Monrovia.
The first case involved a 17-year-old boy, who has since died, according to the Liberian Ministry of Health. The second was transported to ELWA, according John Fankhauser, MD, family physician and SIM's director of medical missions in Liberia.
The two victims were in the same contact chain. The ministry has isolated the community where the patient stayed, providing food and supplies to them during a 21-day monitoring period.  read more…
By Cathy Lynn Grossman, Religion News Service, June 29, 2015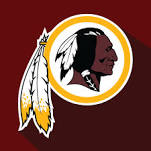 The United Church of Christ, a progressive denomination, has called on its 1 million members to boycott Washington Redskins football games and merchandise until the team drops its controversial name and mascot.
The resolution, supported by several Native American tribes, passed Monday (June 29) at the denomination's biennial summer synod in Cleveland.
The Monday resolution takes the boycott national. It called on the NFL franchise to "change its team name and to refrain from the use of any images, mascots, or behaviors that are harmful or demeaning to Native American cultures or peoples," said the Rev. Linda Jaramillo, a national officer of the UCC, in a press release."The use of the term 'Redskins' for the team mascot and nickname of the Washington football team is offensive and causes direct harmful effects to the public health and well-being of the Native American population," she said.  read more…
By Ellen Idler,  OUP blog,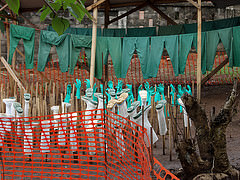 If you think about big public health challenges of our day — the Ebola virus in Africa, the rising rates of suicide among the middle-aged in the United States, the HIV epidemic everywhere — religions are playing a role. When I speak, I ask audiences, "What was the first thing you heard about the Ebola crisis?", and they always say "The missionaries who got it were taken to Emory." "That makes my point," I say. "You didn't know anything about it up until that moment, but they did." Those missionaries, and the faith-based organizations they worked for (Samaritan's Purse and Serving in Mission) were already there on the ground along with other faith-based organizations, volunteering their time, putting their lives in danger, and providing valuable resources of equipment, supplies, and knowledgeable helping hands to try to contain the outbreak.