CALENDAR OF EVENTS
---
March 12-16:  Spring Break
April 30, 2018:  Classes end
Ongoing-May 2018:  Ebola:  People + Public Health + Political Will»
Ellen Idler, PhD, lead author on the paper, "Religion, a social determinant of mortality? A 10-year follow-up of the Health and Retirement Study", was recently interviewed on GPB News about her findings. Listen to the...
read more
April 3, 2017 - Lecture by Dave Robinson at the Rollins School of Public Health Fear, Death, Faith, and Trust: Muslims and Christians Fighting Ebola Together in Sierra Leone References World Vision International—Protecting the Living Honouring the Dead Ebola 2017...
read more
FEATURED:  WHAT WE'RE READING & WATCHING
---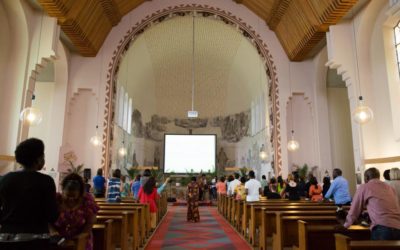 There are all kinds of way to get healthy. You could spend time jogging, doing yoga...or going to church. New research from Emory University finds regular attendance at religious ceremonies can improve one's health and lower mortality. We talk about this idea with the...
read more
Religion as Social Determinant of Public Health
Ellen Idler, PhD, editor.
Oxford University Press, 2014
In the fall of 2010, Ellen Idler, Director of the Religion and Public Health Collaborative and Professor of Sociology, convened an interdisciplinary faculty seminar at Emory that explored both the positive and negative intersections of religion and public health.  Faculty from the schools of public health, theology, medicine, nursing, and the graduate school met monthly, discussing the complex relationship of religion and public health, two institutions that often share common interests but sometimes find themselves in opposition.  What was clear at the outset was this: religion was an invisible and unacknowledged but utterly crucial social determinant of public health.