Emory graduate students have the opportunity to work with the RPHC in varying capacities. The RPHC provides funding for research and participation in seminars abroad, fosters relationships between faculty and students, and ultimately, offers deep insights into the relationship between religion and public health. Often, students find that their involvement with the RPHC inspires their studies and encourages them to enter fields that further illustrate how religion and health can intersect to improve communities.
RECENT GRADUATES
Meagh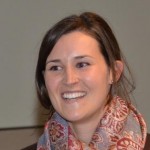 an O'Connor, MTS/MPH 2014

Meg entered Emory with an initial interest in the dual-degree program since her theology studies focused on religion's relationship to health and well being. Meg's undergraduate studies in communication coupled with several years of experience in advertising provided her with a range of skills; however, it was personal experiences with substance abuse and recovery which led her to Candler to pursue her long-held interest in theology. Meg is eager to utilize her unique background to incorporate her knowledge of religion with health. Meg recognizes how faith plays an important functional role in societies and individuals. She currently plans to work within the medical community, integrating spirituality with health service delivery (including substance abuse recovery). Meg aspires to improve the way health is managed by incorporating faith with prevention, healing and recovery.
Trey Comstock, MDiv/MPH 2015
Trey was drawn to Emory because of the opportunity to be in the dual-degree program, combining practical skills of global health in global missions. As an undergraduate, his initial plans involved politics and theater. However, during his sophomore year he participated in the Camino de Santiago, a one-month walk across Spain that sparked his passion for mission. After graduation, Trey taught special education in a low-income, Washington, D.C. middle school for two years as a Teach for America Corps member.
Though he felt called to ministry, Trey initially did not want to be a pastor or engage with conversion-focused missions. As he studied international relations, however, he began to see how ministry looks different overseas. One of Trey's mentors gave him the advice, 'If you're serious about doing international relations, get a degree in public health!' Trey is now an MDiv/MPH student, with a focus on building God's Kingdom in partnership with communities and gaining a practical skill-set to use on mission.
Sabrina Mallett, MTS/MPH
Sabrina graduated from Emory in Winter, 2012. After receiving a BBA in Finance, she entered Candler as an MTS student with plans for a PhD in Religion. During her studies at Candler, Sabrina became pregnant and decided to change her PhD plans. Sabrina integrated health education into her work at Candler, but overtime she realized the benefit of practical training in public health. Sabrina was particularly interested in religion and public health in relation to gender issues, women's health, ethics, violence and religious beliefs. Dr. Karen Scheib suggested the dual degree program to explore sexual violence as a public health and faith issue.Once in the dual-degree program, Sabrina took a directive study and continued background research on religion and reproductive health as a research assistant for Dr. Laurie Gaydos. She finished her MTS as a part-time student while working full-time.
Looking forward, Sabrina is pursuing a career in public health. Sabrina plans to stay in Atlanta with her family and working at the intersection of faith and public health. She would love to find a faith-based organization that addresses the health of underserved populations while incorporating social justice.Sabrina's advice for future students is to speak with faculty even if they are not your faculty advisor and to connect people out in the field.
Gretchen VanEss Martin,MDiv/MPH
Gretchen came to Emory with a background in architecture. As an undergraduate student, she studied how architecture can advocate for social change and through this study became increasingly interested in marginalized populations. She felt called to ministry after spending time in Haiti and on the Blackfeet Native American reservation following graduation, which lead her to enter Candler as an MDiv student. While at Candler, she was awarded (with Michael Ritter) a seed grant from the RPHC to study safe water in Haiti, focusing on how religious and faith groups can be excellent advocates for health issues. While in Haiti she realized she also needed a public health skill-set to be effective in ministry. Upon her return to Emory, she began advocating for a dual degree-program in faith and health.
Gretchen's thesis researched the role faith and scripture have in helping women cope with infertility. She interviewed infertile women and found that they rely on their faith and scripture for support, but that church support for infertility is currently underdeveloped. Gretchen's future plans are to work in faith communities promoting health, by talking about issues that are not currently being addressed in faith communities, such as STIs, HIV prevention, breast-feeding, healthy eating, and violence.
Her advice to future students is that, "walking in both communities is uncharted territory and there are many opportunities to be a forerunner in this area. Faith influences health and health influences faith, and that intersection is an amazing opportunity for prevention and programming. While there are many challenges to bridging the worlds of public health and theology, being the bridge-maker between faith and health is crucial for future dialogue and partnership between these two communities."
Angela Dixon, MDiv/MPH
Angela worked as a healthcare attorney for several years. A devout person of faith, she entered the Candler School of Theology to learn how she could integrate her professional life as an attorney with her spirituality. Throughout her studies, she continued working as an attorney, either full-time or part-time, depending on the semester. Angela's interests in community ministry, including how to help and heal communities and how to work with marginalized populations, led her to pursue the Faith and Health Certificate while at Candler, and ultimately to join the dual-degree program.
She completed her practicum in Memphis at the Church Health Center, which was originally a faith-based clinic that offers health insurance to those who do not qualify for Medicaid, but cannot afford health insurance. She also worked at the Methodist Hospital in Memphis, which has an innovative program that is built upon connecting with local churches to improve public health.Her advice to future students is to ask questions to see what opportunities in religion and health are available and to connect with faculty who share areas of interest.